Eco-Global Termite Doctor Pty Ltd is one of the fastest growing pest management firms in Australia and Eco-Global College Australia will be a unique training organisation in the pest management industry worldwide. 

As Eco-Global continues to expand and grow, we are looking for a full-time Administration Assistant to help us with our ever-increasing administrative needs in the field of pest management and initial setting up a registered training organisation (RTO). The candidate must meet the following criteria: 
Honest - Eco-Global Motto: Honesty is paramount & above all rules

Excellent language skills (speaking & writing) both in English & Chinese

Chinese language skills are essential as we have a big Chinese-Speaking customer base

Motivated to arrange termite/pest control jobs for pest management technicians (mainly local Aussies) based in Greater Brisbane areas (Ipswich, Logan & Redland Bay) & GoldCoast

Friendly attitude to receive and make phone calls to respond customer inquires during normal working hours and after-work hours including weekends 

New graduates from University or TAFE with any major are encouraged to apply

QLD driving license and own transport 
The responsibilities of the sucessful candidate include the followings:
Dealing with daily office management and enquiries 

Arranging pest control jobs using Google Calendar 

Assisting in student enrolment for Eco-Global College Australia

Assisting in writing pest inspection reports

Entering data and calculating payment for employees

Maintaining office and training areas

Organising company functions 

The successful candidate will be paid based on 5-day office working hours and commission of job value, plus superannuation and other benefits. Based on the current annual turnover the package benefit would roughly reach $40,000. The income is likely to incease every year as the company business continues to grow and the Eco-Global College Australia starts operation in 2018. 
The majority of exsiting employees of Eco-Global Termite Doctor Pty Ltd are local Australians and we have a multi-cultural friendly working environment. Backed by a selection panel the General Manager, Mr Enzo Pilotti, will be in charge of selection process and the Company Director, Dr Deling Ma, will support his decision. Please send your CV to eco.pest@hotmail.com. You may want to know more about Eco-Global Termite Doctor please visit our website: www.termite-doctor.com 
澳洲白蚁害虫博士
招聘办公助理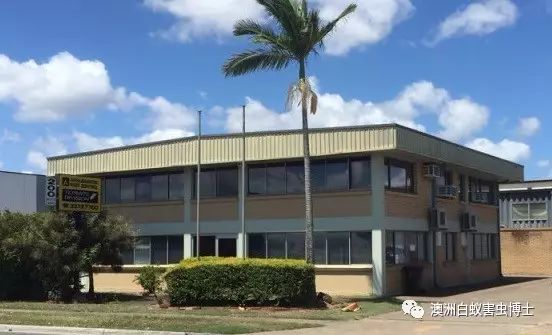 澳洲白蚁害虫博士办公楼
200 Beatty Rd Archerfield QLD 4108
澳洲白蚁害虫博士公司现招聘办公助理一名,可以立即培训上岗。招聘条件:诚实可靠,中英文流利(口语和写作),善于和人沟通,热情友善,极强的团队精神,驾驶执照和个人交通工具,两位推荐人(最好其中一位是前/现雇主)。

你是人生的追梦者吗?你想加入一个有梦想的团队吗? 你想成为探索神奇昆虫世界团队的一员吗?你想让房屋受白蚁蚕食而愁眉不展的人们笑逐颜开吗?你想体验一个多民族工作环境的特殊行业吗?你想见证害虫治理行业"百年老店"的发展历程吗?作为澳洲发展最快的害虫治理公司之一,要实现百年老店的梦想,澳洲白蚁害虫博士公司正期待你的加入。
选人程序:(1)有意者请将英文简历(不接受中文简历)发到eco.pest@hotmail.com;(2)公司根据申请者的经历和业绩,筛选简历,通知入围者面试;(3)对3-5 位合适人选面试 - 4/5 英语,1/5 中文;(4)选择1名,实习期3个月后根据工作能力和业绩表现决定是否转正。
澳洲利球白蚁害虫博士公司管理模式为总经理负责制,人员筛选过程参考最近两年的新职工选拔模式。招聘小组由总经理Enzo Pilotti任组长,成员有Gary Cochrane(技术经理),Nathan Wei (销售经理)和马博士。我们将对所有申请人材料保密。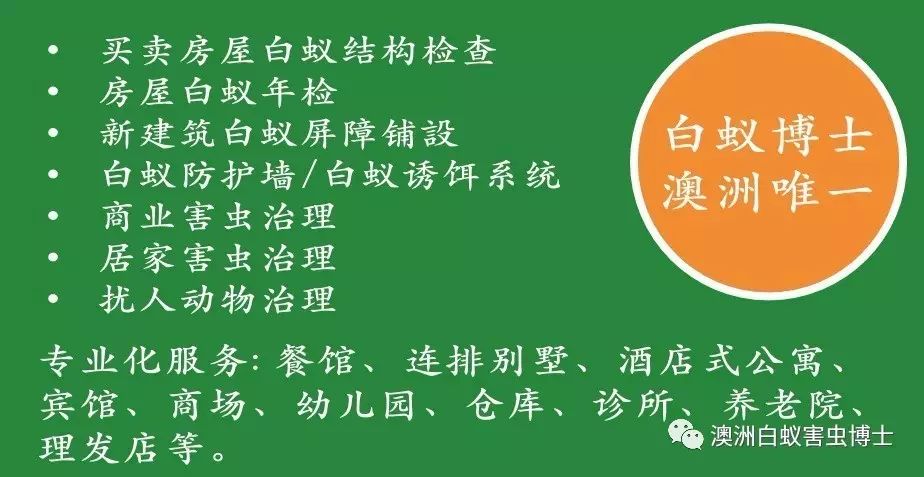 关注白蚁害虫博士

关爱你的美丽家园